20 March – 8 May 2015
Venue: Evagoras Lanitis Centre (behind the Limassol Medieval Castle)
The exhibition focuses on some to the most significant icons, originating from monasteries and village churches of the Limassol diocese. Eight of these icons are two-sided, thus the title Recto/Verso, indicating a representation at both sides, with the image of the Virgin with Child at the front (recto) and that of the Crucifixion or Via Crucis or simply a cross with decorative motifs at the back (verso).
The exhibition sheds light on representative samples of the iconographic creation from the twelfth to the nineteenth century, presenting the whole spectrum of ecclesiastical art from the Byzantine era, to Frankish (Lusignan and Venetian rule) and Ottoman times, covering thus a broad stylistic and chronological gamut that crystallizes different periods from the history of the island.
The visual voyage is completed with works by contemporary Cypriot artists, innovatively reinterpreting and rearticulating the particular hagiographic themes (Virgin with Child/Crucifixion) as they are delineated through the Byzantine, the subsequent Crusader tradition of the West and the Italobyzantine mode.
The icons will be presented on a specially designed panel, made out of simple material, placed in a central point of the exhibition space, allowing the visitor to see the icons on both sides, along with the contradiction of other relevant creations by local modern artists of Cyprus which will be presented in the same exhibition in the form of paintings, sculptures and other creations with the use of mixed materials.
The exhibition is organised by the Limassol Tourism Board, the Evagoras and Kathleen Lanitis Foundation and the Ministry of Education and Culture in collaboration with the Municipality of Limassol and the Holy Bishopric of Limassol.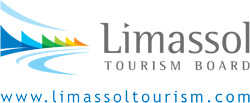 The Limassol Tourism Board is the official tourism body for the Limassol region. We specialize in promoting Limassol and its further development in terms of tourism infrastructure.